GLP-1 is a naturally occurring hormone that functions to maintain blood glucose levels by increasing insulin production in the pancreas, decreasing the release of glucagon (a hormone which controls the release of glucose from the liver after meals), promoting a feeling of fullness after eating a meal and slowing the emptying of the stomach's contents to allow more time for food absorption. GLP-1 is deficient in persons with diabetes. Liraglutide is a long-lasting GLP-1 analogue that is 97% homologous to native GLP-1. Unlike naturally occurring GLP-1, which is rapidly inactivated in the body by an enzyme called DPP-4, the slight structural change of liraglutide makes it resistant to degradation by DPP-4. Liraglutide injections improve blood glucose levels by enabling persons with diabetes to achieve high levels of GLP-1 for several hours after administration. Liraglutide acts in a glucose-dependent manner, meaning that it stimulates insulin secretion and inhibits secretion of glucagon only when blood glucose levels are higher than normal. Liraglutide therefore has a low risk of hypoglycemia.

Victoza is used, in addition to diet and exercise, to improve glycemic control in persons with type 2 diabetes. It may be administered in combination therapy with metformin and/or sulfonylureas.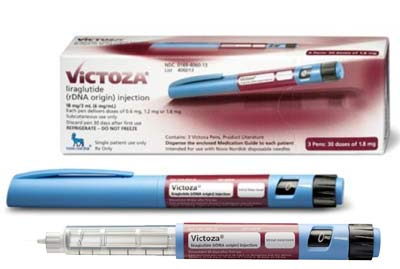 Dosage Forms and Strengths



Victoza is a clear, colourless solution intended for subcutaneous injection. Victoza comes in a pre-filled, multidose pen that delivers 0.6mg, 1.2mg or 1.8mg of liraglutide (6mg/mL, 3mL per pen).



Dosage and Administration




Administer Victoza once daily at any time, independently of meals
Inject subcutaneously in the abdomen, thigh or upper arm
Initiate at 0.6mg per day for one week. This dose is intended to reduce gastrointestinal symptoms, but is not effective for glycemic control. After one week, increase the dose to 1.2mg daily. If the 1.2mg dose does not result in acceptable glycemic control, the dose can be increased further to 1.8mg daily.
Before taking Victoza
Talk to your doctor about any current or past medical conditions you have had, including pancreatitis, gallstones, alcoholism, high blood triglyceride levels, severe stomach problems such as slowed emptying of the stomach (gastroparesis) or problems with digesting food, kidney problems or liver problems
Talk to your doctor if you have an allergy to any of the ingredients in Victoza
Talk to your doctor if you are pregnant, planning to become pregnant, or breastfeeding
Side effects
Talk to your doctor if you experience any unwanted side effects while taking Victoza. The most common side effects associated with the use of this medication are:
Headache
Nausea
Diarrhea
Nausea is most common when first starting Victoza, but decreases over time in most people.

Victoza has been found to have a low risk of hypoglycemia, however this risk is higher when Victoza is taken with other medications that cause low blood sugar, such as sulfonylureas. Victoza is not associated with weight gain.



Ingredients





Active ingredient:

Liraglutide



Inactive ingredients:

Disodium phosphate dehydrate, propylene glycol, phenol, water